About Us
Since our establishment, we, SHANTI WORLDWIDE, are one of the well-known manufacturers and exporters of Chickpeas and other agro products. In our range, we offer Chickpeas (Kabuli), Soybean Seeds, Organic Soybean, Corn, Soybean Meals, Pulses & Beans. These are highly appreciated by our customers spread across the world for their features such as purity, rich in taste & aroma, rich in protein, longer shelf life, moisture free, and low in fat & cholesterol.
We give proper attention towards processing and packaging of our chickpeas, pulses, and soybean products. To achieve this, we have developed sophisticated facilities at our premise. The latest facilities enable us to meet the growing demands of our clients while maintaining the international standards for quality. Further, we train our professionals regarding the quality of our range and thereby maintaining a strong business relationship with our clients. By offering high quality products, we have become a member of various esteemed export promotion organizations like APEDA and Spice Board of India.
Under the guidance of our mentor and owner Mr. Ashish Kacholia, we are able to meet the growing demands of our customers based across the world. He himself have years of experience in international market. His expertise and marketing skills have helped us in attaining the trust of our reputed clients speared across the globe.
Our Mission
Our mission is to explore the world markets with a right blend of professionalism and business ethics.
Our Vision
Develop Agro Export of India
To become a cost effective organization and create value that all stakeholders are proud to be associated with US
To continue to serve our customers with unflinching commitment for quality standards leading to complete customer satisfaction
To become a responsible and respectable corporate citizen by caring for our communities. Create employment OPPORTUNITY
Our Team

The success of our organization lies in the efforts of our dedicated team of experts which work consciously to offer a wide range Quality agro products. All of our team members are well versed in their respective field of work. Further, they work with cooperation that enable us to processing our products in a seamless and efficient manner.
Our team can be categorized as:
Quality controllers
Procuring agents
Semi-skilled & skilled workforce
Research & Development Personnel
Warehousing & Packaging
Why Us?

With an impeccable record of meeting the growing needs of chickpeas, pulses, and soybean products, we are able to be a prominent processor and exporter of these products in India. Our strong corporate ethics and quality products enable us to commit and maintain long term business relationship with our global clients. Some of the factors that became our strength to gain a loyal and growing customer base are mentioned below:
Industry leading prices
Wide infrastructure
Prompt and timely delivery
Qualitative agro products
Widely distributed network
Able to meet huge market demands
Ethical business practice
Export House Certificate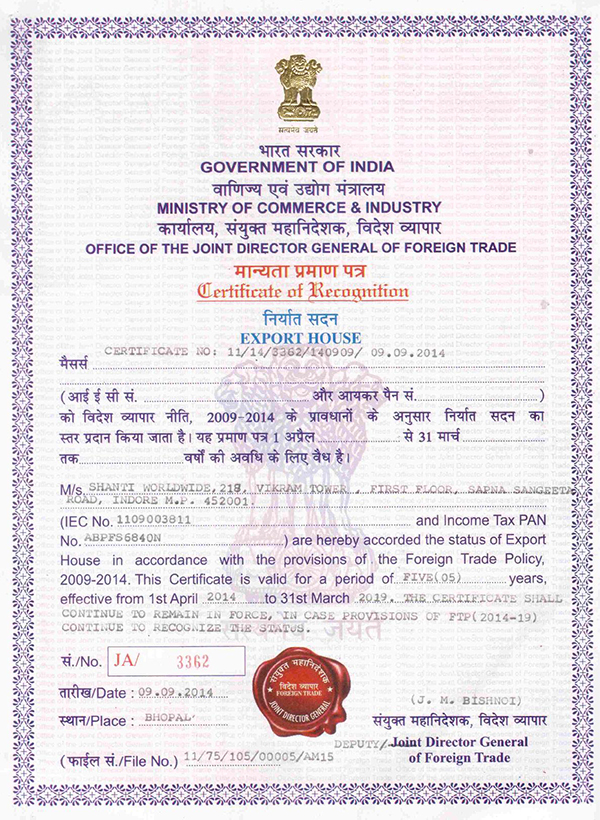 Our Products
All Type of Pulses
Corn & Flour
Organic Products
Feed Products
Soya Products
All Rights Reserved. Shantiworldwide.com
Website Design by Antasoft Technologies