Deffated Soyabean Flour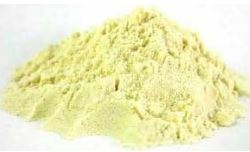 Soy flour is made from roasted soybeans ground into a fine powder and contains 50 percent protein. Soy flour comes in three forms: natural or full-fat, defatted, and lecithinated. Natural or full-fat contains natural oils found in the soybean. Defatted has the oils removed during processing.
Defatted soy flour is used as an ingredient and supplement to cereal products (wheat, corn, rice). It can be used in a wide variety of products including bread, weaning foods, cereals, cookies, muffins, cereals, cakes, pastas, and tortillas. It is currently being used world wide by commercial processors. It is also a common ingredient in blended food aid products, such as Corn-Soy blend, Soy fortified wheat flour, et al. Defatted soy flour can also be fortified with various micronutrients and minerals.
Specification
| | |
| --- | --- |
| | |
| Protein | Min.52% |
| Fat Content | Max. 0.8% |
| Crude Fiber | Max. 3.5% |
| Moisture | Max. 8.0% |
| Total Ash | Max.6.0-6.5% |
| Sand Silica | Max.3.0% |
| Urease Activity | 0.05-0.25 Mg N2 at 30c |
| PDI | 20-35% |
| Pass Through | 80-200 Mesh |
Our Products
All Type of Pulses
Corn & Flour
Organic Products
Feed Products
Soya Products
All Rights Reserved. Shantiworldwide.com
Website Design by Antasoft Technologies